Solar Pool Rings
Pool Solar Circles
What are Solar Pool Rings?
Solar pool rings are a lower cost method to warm up the swimming pool water by using Sun radiation passively. One of the commercially available products is called Solar Sun Rings. Some call them solar pool circles. They remind me of Monet's Water Lilies, so looking at the picture you can imagine how the plastic version looks like on the surface of the pool

Shop Specialty Pool Products for Swimming Pool Heating Options and Solar Sun Rings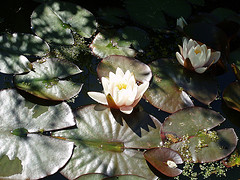 picture credited to amandabhslater – flickr
If you ask yourself how to warm up your pool spending as little money as possible, Solar pool rings come to your rescue. Pool circles are in essence a lower cost swimming pool cover at a much lower price. They float on the surface of the pool. They reduce water evaporation and the loss of stored pool's water heat through radiation. The heat capacity of the water contained in the pool is high and if not for evaporation and radiation heat losses the pool could have stayed warm. Evaporation counts for loss of water, an unnecessary waste at present day water price.
The solar pool rings are disks of vinyl, transparent to light on the upper side and blue on the bottom side, they are inflated at the beginning of the season and they float on the pool surface. Some types, like the Solar Sun Rings have magnets on the edges of the disks that help them hang together. The coverage is obviously not 100% due to the circular shape and the unavoidable gaps between the solar pool rings.
---
Solar Sun Rings
Solar Sun Rings are the commercial brand name for the most popular solar pool circles product on the market. Bellow is a description of the product.

SWIMMING POOL SOLAR SUN RING -( SSRN , SOLAR SUN RINGS )
Limitations of Solar Pool Rings
Compared to the more expensive solar pool cover, there are some performance gaps. As I already mentioned the coverage is not 100% (more likely in the 60% range). The falling leaves and litter is collected on the rings and tend to drop into the water if the solar pool circles are lifted out (still better than the no cover at all.) However this lower budget solution can do the job reasonably well.
The Solar Circles and the Pool Cleaning System
Some Solar Rings are compatible with automatic pool cleaners. In the event the ring is sucked by the pool suction , the solar pool circle will separate from the raft to allow the pool cleaner to continue.
For Sun Rings, solar pool covers and other pool and Spa supplies needs, get Eco-Friendly Products for Pool, Spa & Home, at Specialty Pool Products!
---
---
return from the solar pool rings page to the solar pool heating page
click to view my home energy Home Page